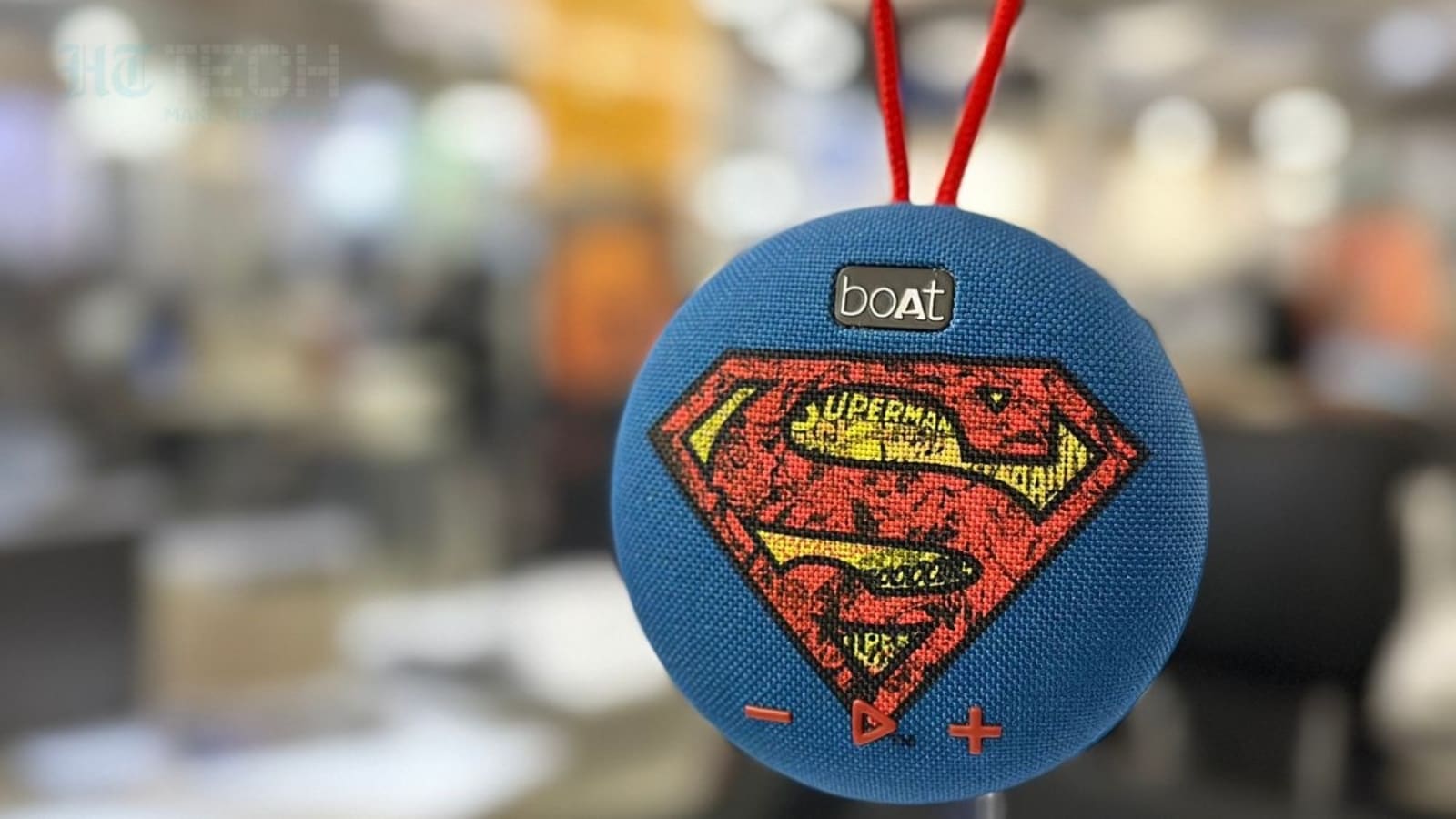 Boat Stone 190 Superman DC Edition review: A starter speaker with a touch of style
The Boat Stone 190 Superman DC Edition comes with an interesting design, decent audio quality and long battery life. Priced at Rs. 999, should you buy it?
What do you expect from a wireless Bluetooth speaker for less than Rs. 1000? A decent deal with fast connectivity? Loud, clear audio to meet the need for music sessions paired with long battery life? And some easy commands, right? Boat takes all of these basic necessities and packs them into a beautifully designed Superman DC Edition themed Boat Stone 190. On paper, the Boat Stone 190 seems like a safe bet considering its impressive features priced at Rs. 999 and sleek design. But how does that sound in the real world? Does he compromise for a tight budget? Namely, I listened to Boat Stone 190 for over a month, and here's what it's capable of.
Boat Stone 190 Design
It's like old wine in a new bottle! This updated DC edition Superman design is the main highlight of the Boat Stone 190 speaker. That's all because we already saw the standard version a few years ago. The traditional dotted-textured design of the Stone 190 has been given a stylish twist with the addition of the Superman logo in red, printed on the blue fabric, just like Superman's costume! However, if you're not a Superman fan, you have the option of the Batman Edition or the Marvel Superheroes models, which are priced slightly differently.
Look beyond its design, and the Boat Stone 190 is one of the best budget portable speakers as it weighs just 182 grams. Plus, its sturdy build quality and cord-like hanging bracket make it even more practical. And yes, it also has an IPX7 water resistance rating.
Stone 190 Audio boat
Most affordable wireless speakers aren't designed for noise-filled outdoor conditions and end up being a personal listening experience for a small area. The Stone 190 boat is no exception! Inside this sleek stone-shaped mini speaker is a 52mm speaker with 5W audio output, which is enough to fill the room with clear and loud sound. Considering its price, the Boat Stone 190 manages to cope with all kinds of music without any sound disturbance. Even at its peak, the Boat keeps the audio quality intact with clear vocals from the lyrics. Whether it's pop or classical music, you can enjoy almost all kinds of music with loud sound. However, it ignores bass-oriented output, so fans of "bass-holic" music should look at other options.
Boat Stone 190 delivers impressive audio output on its highs and mids only; the lows are flat, leaving room for improvement here. However, the best part is that you don't need to disconnect your speakerphone if you receive calls while streaming music as it comes with a built-in mic to attend calls. Taking calls with Boat Stone 190 was a smooth experience calculating proximity to the speakerphone.
Boat Stone 190 controls and features
It's a simple affair – there are dedicated buttons for performing a specific task, and that's it! Above the speaker are three classic buttons – play/pause, + volume and – volume – for multiple use cases. When you short press the volume up key, the next track will be played and vice versa. While the Play button can handle incoming calls to attend, reject them with a long press and double press to redial the last call. Apart from that, once you set up the device, its power button allows you to connect it to your smartphone in seconds.
Interestingly, you also have the option of connecting the speaker via an AUX cable with your smartphone or laptop. With this, you can switch between Bluetooth and AUX playback modes with a dedicated "Switch Mode" button on the side. Unfortunately, there is no app connection or special smart feature loaded on Boat Stone 190, but it does get a stereo link function to pair it with another speaker to be forged into one. Although there is no built-in voice assistant for interaction, the microphone allows you to take calls and talk to the voice assistant such as Siri or Google Assistant on your phone. This can be activated via a short press of the power button. That said, app link support could have been better for customizing button behavior.
Stone 190 battery life
Boat claims to offer up to 4 hours of battery life with Stone 190 in continuous use. To my surprise, I could easily play more than 6 hours of music tracks continuously, while keeping the volume around 60-70 levels. Therefore, battery life may vary with full volume. To recharge it from its zero point, I used one of my phone's charging adapters, which took about 1.5 hours to get it recharged. There is an LED that helps indicate when your speaker is fully charged.
Verdict
Overall, the Boat Stone 190 is simply one of the best options at this reasonable price for many reasons. It's small, light and portable with a special Superman DC themed design that delivers loud and clear audio performance for its size. Additionally, the long battery life extended the reported runtime during our test period. Fast connectivity, IPX7 water resistance, AUX cable support, and a built-in mic for calls are other perks that make it a worthwhile option.
However, you should avoid expecting low performance oriented. Other than that, it's the poor audio output below volume 40 and the lack of button customization that sours the experience. However, if you don't care about bass and customization, then Boat Stone 190 is one of our top recommendations at Rs. 999.
Product Name
Stone 190 Superman DC Edition Boat Review
Advantages
Battery life
loud and clear
Lightweight and portable
The inconvenients
poor bass
Lack of customization
Features
Speaker output

5W

Battery

800 mAh (up to 4 hours)

Connectivity

Wi-Fi, AUX

App support

Android, iOS

Water resistance

IPX7

Microphone

Yes