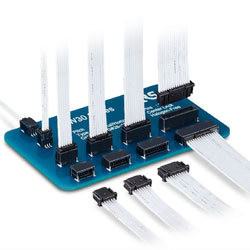 Extended series adds ultra-reliable wire-to-board connector
08-06-2022 | hirose | Connectors, switches and EMECH
Hirose has extended its SignalBee wire-to-board connector product line with an ultra-reliable 1mm pitch version. Offered in two to eight positions, the KW30 series miniature single row connector offers increased reliability through a two-point contact design as well as prevention of crimp contact deflection. Additionally, a ribbed design provides a secure fit when mating the plug and socket, creating high vibration resistance. A central latch prevents incomplete mating, misinsertion and damage to the latch.
Offering design flexibility, the series is offered in several variations, including straight or right-angle interface types; 28, 30 or 32 AWG; and gold plating.
It's a great choice for a wide range of applications, including appliances/household appliances, medical devices, FA controllers, office equipment, industrial robots, servo motors and more.
"Hirose continues to expand the SignalBee family of products to meet customer needs," said Mark Kojak, chief marketing officer and senior vice president of sales and operations for Hirose Electric USA. "The wire-to-board version of the KW30 series offers robust and reliable performance in a miniature 1mm pitch."
The series has a rated current up to 3A, a rated voltage of 100VAC/DC and an operating temperature range of -55C to +105C.