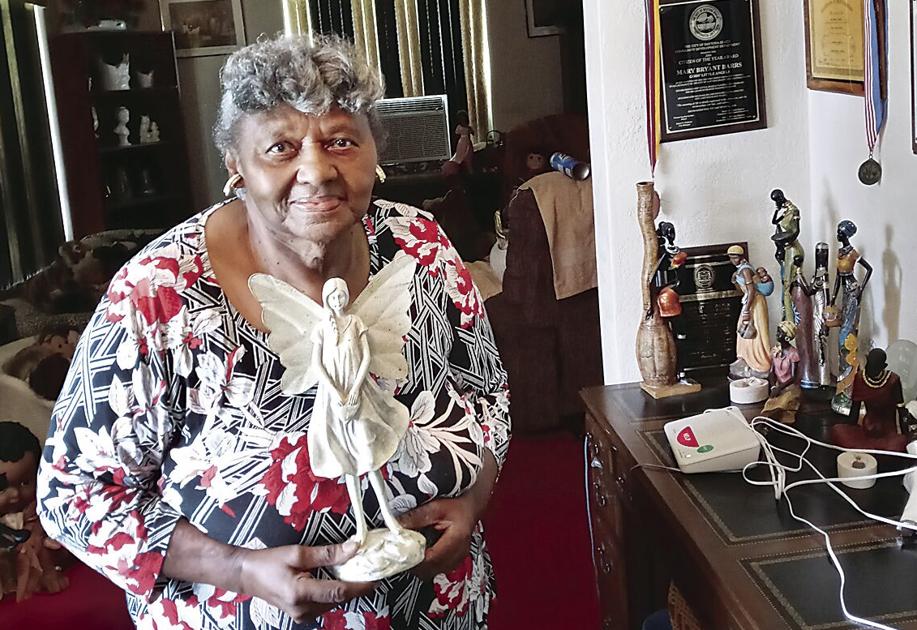 Founder of God's Little Angels Retires at Daytona Beach | New
Mary Bryant Barrs, 79, has decided that after creating and running God's Little Angels since 1990, it's time to take some time out for Mary, which includes an upcoming hip operation.
Ms. Barrs is credited with helping thousands of children, families and the elderly over the years through the little angels of God by providing them with food, clothing and shoes. She sponsored at least a dozen programs as part of the nonprofit organization, which served a variety of needs. She has received countless accolades and awards for her efforts. The programs included Bundle of Joy, a project for needy newborns; How to mend a broken heart, Valentine's Day gifts for nursing home residents and; Clothing and accessories for the start of the school year.
She was born in Georgia, but has been in Florida since 1956. From the start, she brought God's Little Angels out of her garage. The idea came from a dream she had in 1990.
"I was going down Ridgewood and made a left turn and there was a really big fence there," Ms. Barrs said. "I heard children cry and I went to the fence. I asked God if I could come in and He let me in. There were children who did not have clothes, so I called someone to bring me clothes. Someone brought me two big bags of clothes, combs and washcloths. I washed everyone and I cleaned them and they all wanted to come with me. I left, but they couldn't come. Something said it's not a foreign country, it's right here in Daytona.
Thus, the idea of ​​doing something to help the children was born.
"Something spoke to me and told me that they were all little angels of God," and that became the name of the program, she said. Initially, Ms. Barrs ran a day care center and also ran God's Little Angels.
Carol Pringle, who taught at Spruce Creek High School for 33 years, met Ms Barrs when she started God's Little Angels and the two have been close friends ever since.
"I saw an ad in the newspaper for clothing requests and it all took off from there," Ms. Pringle said. "We have to be good friends. She's kind of part of our family.
She asked people from the school to collect items and brought them to Ms Barrs, she said. "I nominated her for different awards. She's just great. She has done so much for the community. She was always doing something for someone. She got help, but she did a lot on her own. She had 12 different programs running at the same time. She was very good at giving things to the students at Spruce Creek High School. She was just phenomenal. She would give you her last dime. She is a role model. It's an angel.
Lawrence Bennett has also known her for years.
"It is totally dedicated to children and the elderly," Bennett said. "She lived for them. She ran this charity completely on her own. It got the state's 501c3 designation, so when you made a contribution, it was tax deductible.
Mrs. Barrs does not seek praise.
"I take obstacles and make opportunities out of them. I am poor but I am blessed. I did all I could for everyone. I took care of the poor, the sick and the homeless. I did everything for my children and for everyone. So I am at peace, "she said.
As for retirement, she said she was going to be 80 and wanted to spend time for herself and "take care of Mary". She can't wait to "sit by the fireplace and drink her apple cider tea." Do this and watch spiritual TV shows and movies. She loves her collection of 180 different baby dolls in a wide variety of shapes, sizes and ethnicities. She can't wait to enjoy her ancient home.
Ms. Barrs wanted to thank everyone who helped her along her journey by donating time, money and gifts. In particular, she thanked the Root family, Mr. and Mrs. Don Hill, Mrs. Pringle, Sandy Thompson, Dick and Joanne Ricanli, Dottie Lewis, Susan and Jim Hagey, Sharon Dann, former Daytona Beach Police Chief Craig Capri, Volusia County Sheriff. Mike Chitwood, Fox Mattress, Pioneer Appliance Co., Publix, Foot Locker, Red Lobster and "a thousand others who would take me all year to name them," she said.
She added, "Once you are here, I welcome you to my home. I give my heart for love, my hand for service, a home for comfort, my health for wealth. Silver and gold are not restored, but a loving heart I do.
Her cousin, Twyler Powell, said, "She has done a tremendous job for this community in general. She always reaches out to everyone. She takes care of everyone better than she takes care of herself. I liked helping him. It's gratifying to see the joy on people's faces.
Financial donations can still be made to God's Little Angels account at SunTrust Bank, 200 S. Palmetto Ave. at Daytona Beach. Ms. Barrs will always use the money to buy items that the community needs. In the meantime, she might need help as she lives solely on social security. She accepts personal cards and retirement wishes or gifts for her which can be sent directly to her home at 540 South St. in Daytona Beach, 32114. You can also call her at (386) 253-5349.