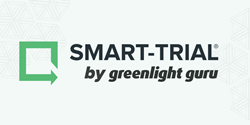 Greenlight Guru acquires SMART-TRIAL electronic data capture solution
Thanks to the combined experience of Greenlight Guru and SMART-TRIAL and the synergies between the platforms, we will be able to provide an offer for MedTech of unprecedented quality and scale.

INDIANAPOLIS (PRWEB)
June 02, 2022
Greenlight Guru, pioneer of the only dedicated Medtech Lifecycle Excellence Platform, today announced its acquisition of SMART-TRIAL, the maker of the first and only electronic data capture (EDC) platform designed for medical devices and diagnoses. SMART-TRIAL offers a comprehensive data collection toolkit to comply with clinical data regulatory requirements.
MedTech's clinical operations are different from other life science industries, and the SMART-TRIAL platform was designed with the sole purpose of addressing the exact challenges of the medical device and diagnostics industry. The platform has been refined in collaboration with manufacturers over the past 9 years to ensure an ideal out-of-the-box fit with the clinical lifecycle of devices. With increasingly stringent regulations for medical device clinical data collection as well as challenges of automating and streamlining the clinical evidence process, the need for SMART-TRIAL's industry-specific solution to reduce the workload and cost of clinical operations has never been greater.
Founded in 2013 by CEO Páll Jóhannesson, CCO Jón Ingi Bergsteinsson and CTO Alex Bondo Andersen, the Denmark-based software company has helped over 100 companies easily and efficiently collect high-quality clinical data in compliance with industry regulations . The SMART-TRIAL platform has become a comprehensive market-leading data collection toolkit for clinical studies, clinical investigations, clinical performance studies, post-marketing clinical monitoring (PMCF) and post-marketing performance monitoring. -marketing (PMPF).
With the 3 founders of SMART-TRIAL, along with their team of more than 20 employees set to join Greenlight Guru, the acquisition will allow the Indianapolis-based company to further expand its platform capabilities and technology companies medicine to achieve true quality at all stages. of the product life cycle.
"60% of Greenlight Guru customers are currently conducting a clinical trial or planning to conduct one within the next 2 years, and more than half of them still use paper or Excel to manage data. This is not only expensive but extremely risky given the increasingly stringent regulations on the quality of clinical data," said Greenlight Guru CEO David DeRam. "Greenlight Guru and SMART-TRIAL have very similar missions and values, and we both focus exclusively on providing MedTech companies with tailor-made software solutions to happily meet their needs. I know we can achieve our common goal much faster by joining forces. »
"Greenlight Guru's vision for the future of MedTech is exactly what the industry needs, and we are very excited to be part of what will become the go-to software platform for MedTech companies around the world," said Páll Jóhannesson, CEO of SMART-TRIAL. . "With the combined experience of Greenlight Guru and SMART-TRIAL and the synergies between the platforms, we will be able to deliver an offering for MedTech of unprecedented quality and scale."
The news follows Greenlight Guru's recent acquisitions of CanvasGT, a software company enabling iterative MedTech innovation and the future of the scalable design process, and Vertex Intelligence, a data science company developing custom intelligence solutions. artificial and machine learning. The addition of SMART-TRIAL makes Greenlight Guru the clear leader in MedTech Lifecycle Excellence, a new category of software for medical device companies focused on end-to-end product lifecycle excellence, from idea to commercialization to post-marketing surveillance and beyond. The acquisition and more will be announced at Greenlight Guru's inaugural True Quality 2022 conference, being held in San Diego June 6-8, 2022.
###
About Greenlight Guru

Greenlight Guru is the only Medtech Lifecycle Excellence platform specifically designed for medical device companies. The platform helps companies bring safer products to market faster, simplifies compliance with FDA and ISO regulations, and provides a single source of truth by connecting the management of all quality processes such as CAPAs, risks, audits, etc Greenlight Guru's platform is used by thousands of organizations around the world to go beyond basic compliance and achieve true quality for their medical devices. For more information visit http://www.greenlight.guru.
Media Contact

Naomi Gollmer

[email protected]

(419) 518-0067
Share the article on social networks or by e-mail: