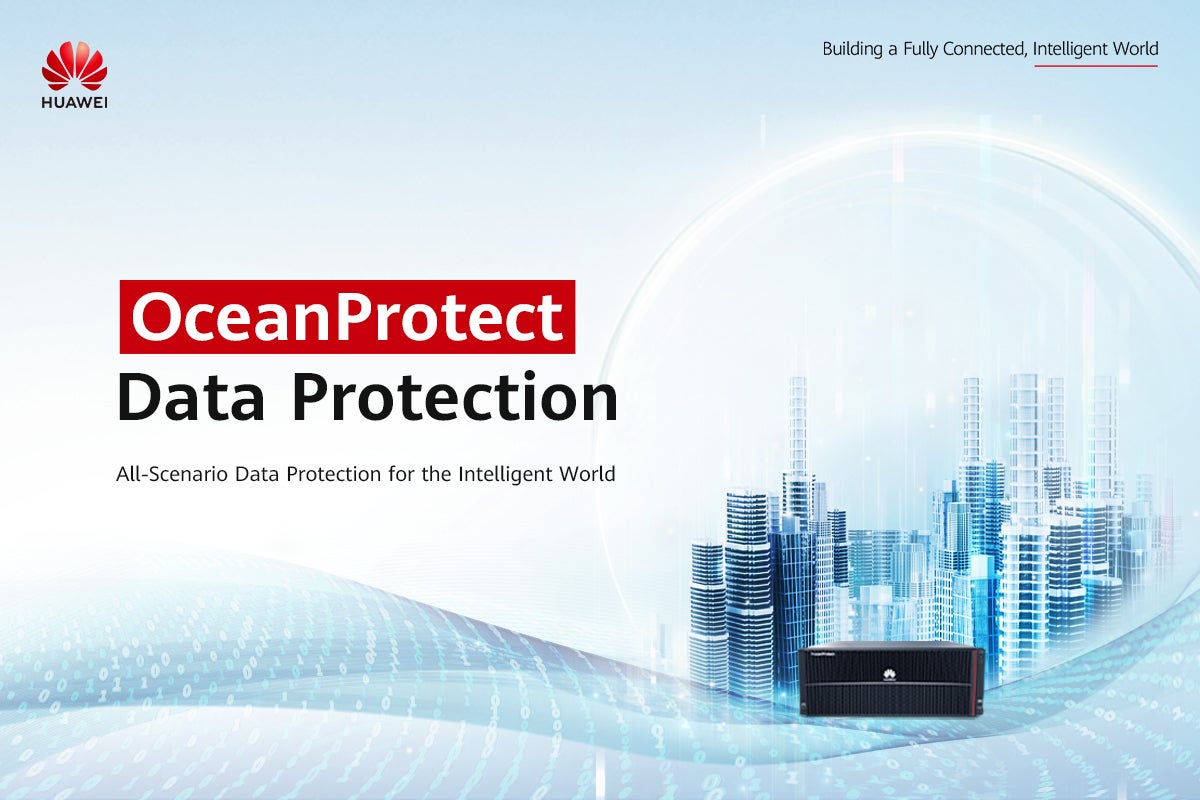 Huawei OceanProtect: Pioneer of data protection for all scenarios
Huawei OceanProtect Data Protection offers a comprehensive set of data protection solutions covering disaster recovery (DR), data backup and data archiving to enable rapid growth across various service data and data lifecycles . .. OceanProtect Data Protection is based on the concept of "Complete Hot Data DR, Fast Hot Data Backup and Restore, and Hot Cold Data Archive" with no downtime, data integrity and data. Holds for a long time.
Comprehensive Hot Data DR: Integrated Storage Access Network (SAN) and Network Attached Storage (NAS) DR, and stress-free upgrade for maximum return on investment
As our business and our lives are digitized, our expectations of uninterrupted productivity are absolute and the continuity of data services and networks becomes more and more important. Today, if a data center goes down, it can have a significant impact on people's lives, especially for the vast majority of businesses that do not have an effective disaster recovery system. Many major financial and telecommunications companies that provide services on which the national economy and the lives of citizens depend have not yet built urban or remote R&D facilities. Additionally, many businesses lack sufficient disaster recovery equipment in the healthcare and manufacturing industries, where service continuity is critical to saving lives. Even businesses that build disaster recovery facilities often encounter downtime as they scale. Clearly, it's time for businesses to invest more in disaster recovery solutions that enable uninterrupted upgrades in productivity and service delivery.
This is why Huawei is piloting the complete recovery of hot data and the construction of DR equipment for all production systems. Only this way can you ensure reliable business continuity. Based on this idea, Huawei offers an "active-active" solution integrated into SAN and NAS. This allows you to use a single system for block storage and file storage services commonly used in finance, telecommunications, healthcare, and manufacturing. The two types of services can be balanced through dual data centers, improving overall performance and enabling customers to achieve maximum return on investment (ROI).
High-level disaster recovery facilities will not be built overnight. Long construction periods and high costs hamper the construction of DRs and the protection of production systems. To reduce the company's initial investment and meet evolving disaster recovery requirements, Huawei's active-active disaster recovery solutions offer dual active-active or active-passive system deployments from within. one system, as well as three data without interruption. We also guarantee upgrades. -Center (3DC) or multi-DC DR solution 4 copies. Facilities can be upgraded online and disaster recovery levels will increase as needed. Customers can easily upgrade their DR build levels according to their budget and needs for better protection of production data.
Huawei's DR solutions aim to maximize return on investment, ensure smooth upgrades of DR solutions, and protect more production departments.
Fast data backup and restore: fast backup, reuse, efficient storage
In recent years, corruption and data loss has occurred on a large scale due to cyber attacks and erroneous operations. Disaster recovery was essential in these situations, but it is not sufficient to effectively protect against these threats. Therefore, it is essential to create a backup function. The explosive growth of data means more data needs to be backed up in a fixed backup window. Therefore, businesses demand faster backup speeds. As business services rely on data, data loss and long-term inaccessibility becomes unacceptable, making rapid disaster recovery important. To enable fast hot data backup and restore, Huawei has launched two new industry-leading backup and restore bandwidths under the OceanProtect series: OceanProtect A8000 Appliance and OceanProtect X8000 / X9000 Backup Storage.
These products implement ultra-fast backup and restore of data accessible at medium or higher frequencies, allowing backup data to flow like production data. Due to the rapid growth of data, many companies cannot back up service data within a fixed time frame every day. Instead, you need to change the backup frequency every week. As a result, in the event of a disaster, businesses lose large amounts of data. When a data error occurs, the service is likely to be interrupted. With slow recovery rates, prolonged service interruptions can result in immeasurable losses to the business. Therefore, only fast backup and restore can effectively protect your business data and services. Huawei OceanProtect A8000 and OceanProtect X8000 / X9000 not only focus on fast backup, but also an efficient way to approach fast retrieval and storage of backup data. OceanProtect products not only effectively protect the stability of your data and services, but also reduce your total cost of ownership (TCO).
The Huawei OceanProtect A8000 appliance is an all-in-one data protection appliance that integrates backup software, backup servers and backup storage. It offers efficient protection, fast reuse, high stability, reliability and easy management to help users to effectively back up their data. The most impressive feature of OceanProtect A8000 is instant data recovery. Data is saved in a format easily identifiable by higher-level applications. In the event of a data failure, you do not need to wait for the backup data to be completely restored to production storage. This is because you can mount the backup data directly on the production host and restart the production service within 5 minutes. Backup copies can also be used for development, testing, and analysis purposes to maximize their value.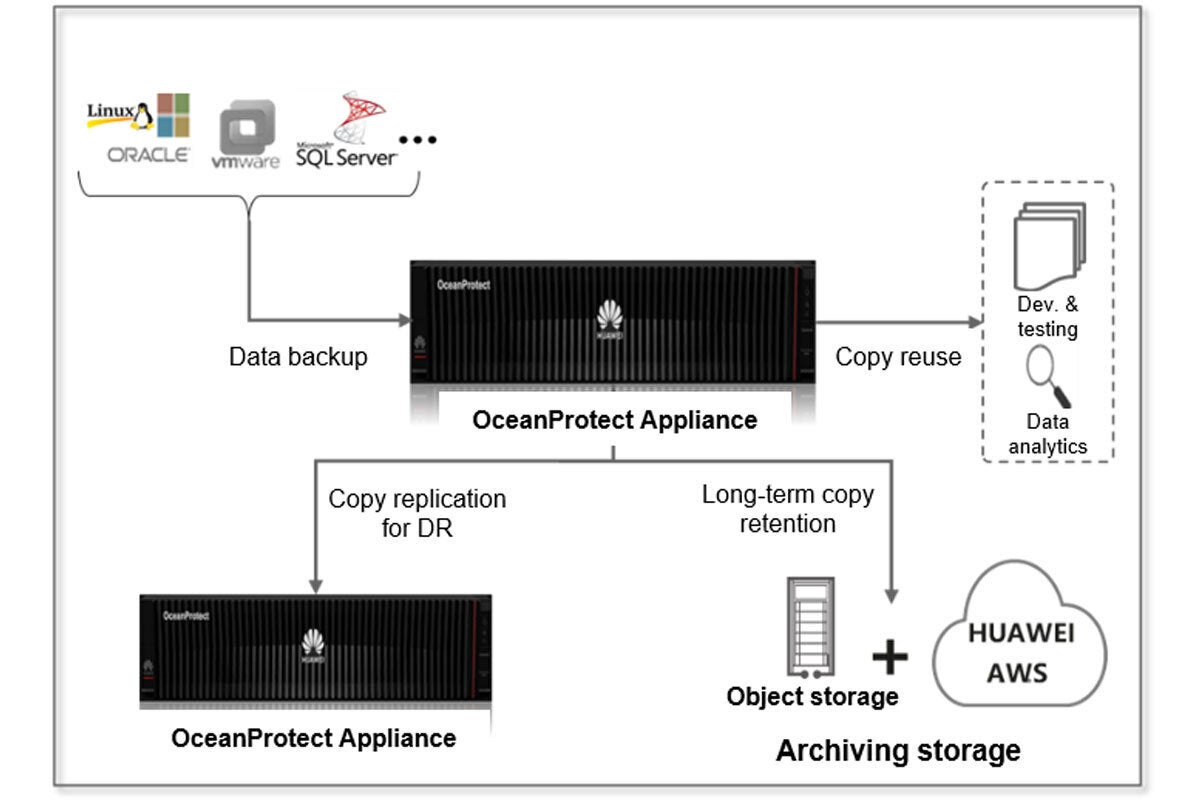 Huawei OceanProtect X8000 and X9000 backup storage systems offer ultimate performance, efficient reduction, high stability, reliability and intelligent operation and maintenance. Works with third-party backup software to form a powerful and efficient backup platform. OceanProtect X8000 and X9000 provide high backup and restore bandwidth through end-to-end performance optimization. Intelligent front-end network adapters offload network protocols to offload CPUs and partition and group CPUs to reduce inter-CPU and inter-core planning. Additionally, bandwidth optimization is performed for large sequential I / O in the I / O path, and high performance SSDs are used on the back end. OceanProtect X8000 and X9000 can back up and restore data at peak speeds of 155TB / hr and 48Gb / s, respectively. Fast backup and restore not only allows users to back up more data within a certain time frame, but also facilitates rapid service recovery in the event of data corruption or loss.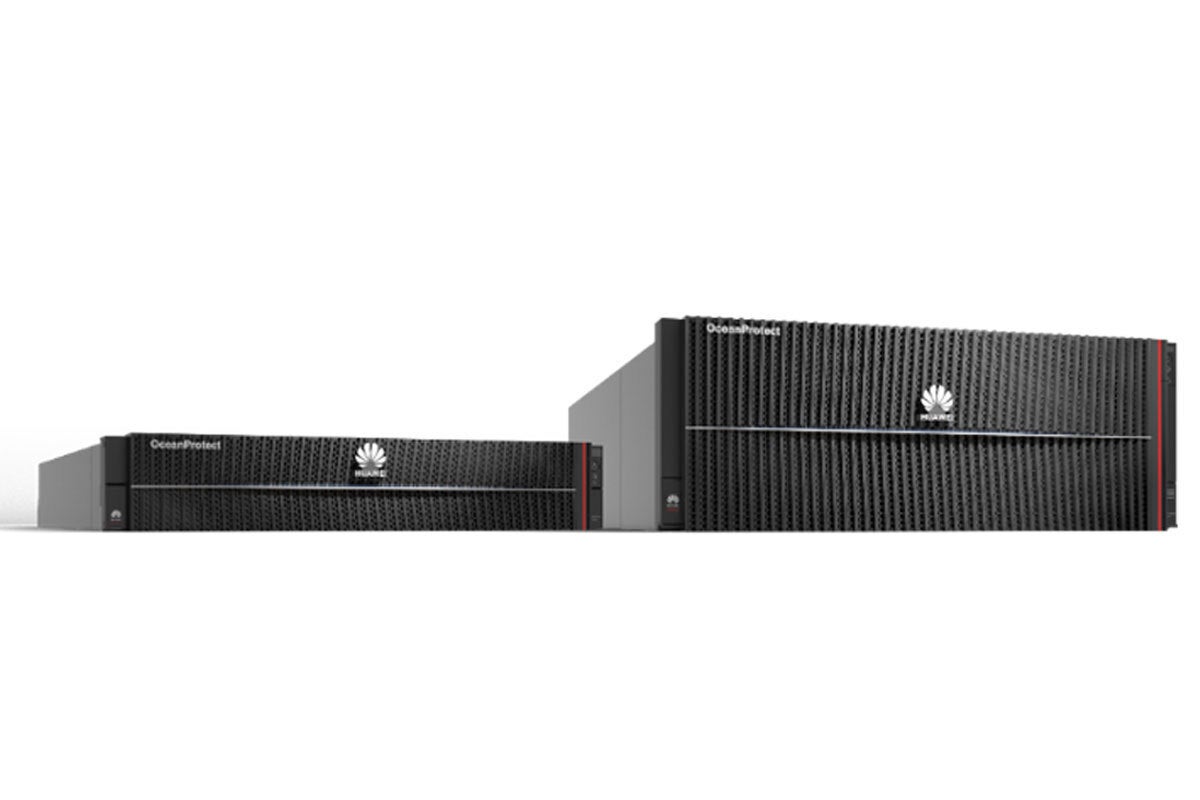 The entire OceanProtect backup storage series is equipped with state-of-the-art data reduction technology that accurately identifies and cuts metadata and service data from the backup data stream. It deduplicates and then compresses the data according to the capabilities of each data slice. With this feature-based deduplication and compression technology, Huawei OceanProtect backup storage can deliver peak savings of up to 55: 1. Storing more data in the same space increases data protection, especially when the amount of data increases.
Huawei OceanProtect Data Protection emphasizes the overall improvement of data protection levels throughout the data lifecycle. Providing an effective disaster recovery solution enables more businesses to effectively protect their data through faster backup and recovery bandwidth and efficient use of backup space. Huawei is working on developing more powerful technologies, products and solutions to protect data in all scenarios of the smart world with OceanProtect Data Protection.
learn more about the Huawei OceanProtect data protection solution.
Copyright © 2021 IDG Communications, Inc.