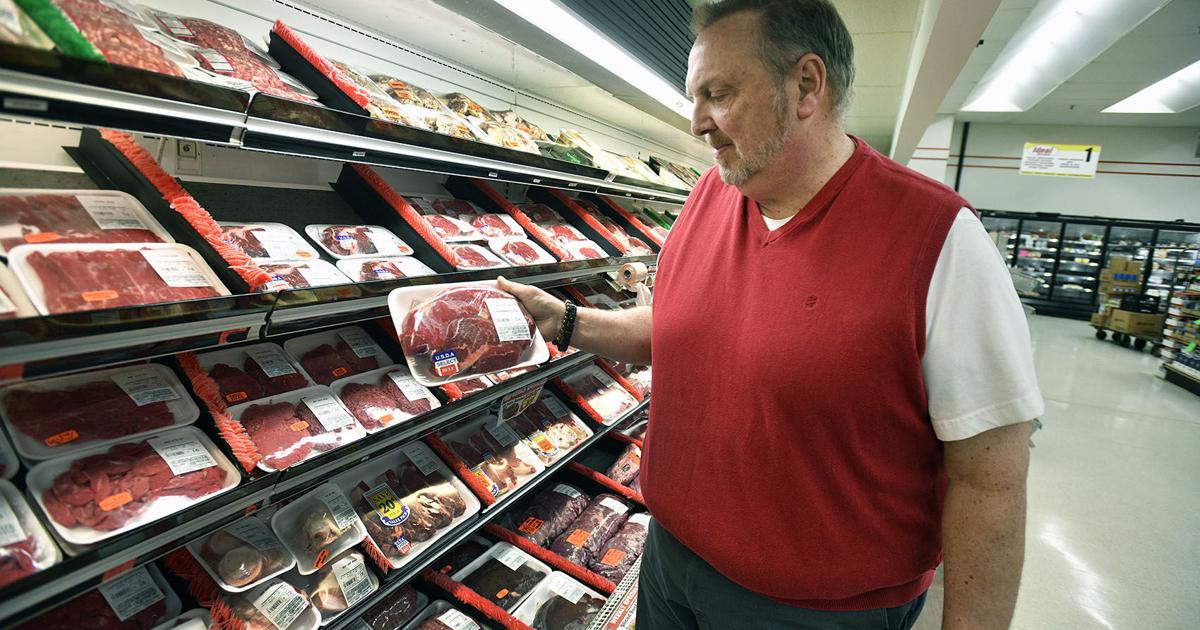 Inflation unpacked | 'Tough Time to Do Business': Domestic and Global Factors Hit Region's Residents' Wallets | News
JOHNSTOWN, Pa. — Gasoline leaked through a hose and into a pickup truck belonging to Don Leventry, 75, of Salix, and the price on the screen in front of him went up.
It's been decades, he says, since he saw gasoline prices at $4 a gallon — and they probably won't stop there. However, he seemed more annoyed by the rigamarole of using the pump's automatic card reader than by the rising gas prices.
"We have to do this to help Ukraine," he said. "I don't like paying, don't get me wrong, but helping Ukraine is what it's all about."
Crude oil prices have surged as the United States considers banning imports of Russian oil following the Eastern European country's February 24 invasion of neighboring Ukraine. Even before the crisis in Eastern Europe, the global COVID-19 pandemic had upended oil supply and demand, causing price fluctuations.
Rising gasoline prices ripple through the economy, contributing to inflation in the prices of goods and services.
But finding a vehicle is a challenge even before filling it with gas. New inventory continues to arrive slowly, which has increased the value of used vehicles.
Fertilizers, rising food costs
In addition to running Ideal Market supermarkets in the Johnstown area, Gary May owns a custom slaughterhouse, Miller Run Butchering, in Hooversville, where he provides custom work to farmers so they can sell individually.
"I can understand beef a lot – what it costs to produce an animal," he said. "Right now your grain, your corn, your wheat – all of your feed – is going up. And the last issue is fertilizer. Fertilizer this year, people don't realize, has gone up by about 300% So the fertilizer that farmers were buying at, say, $300 a ton could cost well over $1,000 a ton.
At the root of fertilizer inflation is, like other commodities, availability, he said.
A side of beef from a local farmer gives people better value, he said.
"Farmers are not reflecting national changes in stores, where they are buying meats already cut and packaged, which increases the cost," he said.
But not everyone has a freezer to store large amounts of meat, he said.
Beef, fries, cereal cost more
For grocery store shoppers, 25% of their bill comes from the meat aisle, and costs have risen dramatically in recent years, May said.
"Three years ago, I was selling a chuck roast for $2.99 ​​a pound. Now they're $5.99 a pound," he said. "That's a big difference – a roast is $7.99 a pound. The sirloin steak costs $10.99 a pound.
He pointed to limited fuel availability and prices as drivers of beef prices.
May said customers become more selective as they pass the meat aisle.
"With beef prices rising, an average customer who can have beef three times a week can have it once a week," he said. "Chicken or pork are not as high as beef prices."
As May spoke with The Tribune-Democrat this week, a man in a hurry grabbed New York steaks. Asked what he thought of the price, he said his wife usually does the shopping, so he couldn't tell.
Walking through the center of the store, passing bags of crisps and cereal that also rose in price, May said customers were still buying.
"People have generally accepted it," he said, "because everyone is talking about it."
"I can't lower the price"
San Romano, owner of Krisay's Appliance & Bedding on Franklin Street, was recently looking for a delivery truck for its technicians who transport and install people's appliances. A dealer was asking $5,000 more than the list price, he said.
"I said, 'I can't afford to do this,'" he said.
With his own clients, Romano is often on the other side of the conversation.
Like automobiles, the cost of home appliances has risen – production of electronic components from Asia continuing to slump in the wake of the COVID-19 pandemic.
Last week, a customer called Romano to purchase a circuit board for a device that had increased in price by $50 since the customer's first call in January.
"I said, 'Look, I can't control this,'" Romano said. "He wanted me to bring it back to the price he quoted in January, but I said, 'I can't lower the cost. I can not do it. I feel bad and would like to help you' – but the price he wanted was below my costs.
Romano is unconvinced that the decrease in the number of COVID-19 cases will have an immediate effect on prices.
"I just don't see where I can look and say there's a definitive end to this in June or July," he said. "I just don't see it."
Increased fuel and electricity
Some products are lagging in the price hike, but customers may feel the pinch in the future.
The most recent press release from the Bureau of Labor Statistics shows that the consumer price index for all items over the past 12 months rose 7.5%. Increases in the food, electricity and housing indexes were the main contributors to the increase.
However, Penelec customers were probably not surprised by their bills.
"We buy electricity through 12 and 24 month contracts, which means some of the prices were locked in during the pandemic when demand was low and prices were low," the spokesperson said. of Penelec, Todd Meyers. "That is why current events that can push up prices have not had an impact on our Penelec customers. Of course, that could change if prices stay high at the next power auction later this year.
Natural gas, which is used to generate electricity and home heating, has seen an uptick in price in recent months, said Barry Kukovich, spokesman for Peoples Natural Gas.
Over the past six years, prices have fallen, but in the last quarter of 2021, the average Peoples Natural Gas customer's heating bill increased by approximately 18% due to a succession of extreme weather events. .
"A freeze in early February in 2021 really clogged gas wells in the South with ice, then even bigger problems came in June and July when warm temperatures dried up hydroelectric production in the West, they so had to burn more natural gas for air conditioning, and that really reduced the commodity," Kukovich said. "And finally there was Hurricane Ida, which took a lot of the production offline. gas from the Gulf of Mexico.
"It comes down to supply and demand, and for the last quarter of last year there really wasn't a lot of supply and a lot of demand, so the bills went way up."
In the current quarter for January, February and March, natural gas prices have started to fall again, he said.
For Claressa Pridgen, of Johnstown, the price of the CamTran bus pass she uses to get to work at Walmart has not changed, she said. And although she has seen the price of groceries skyrocket, she says, inflation hasn't been a problem for her and her family, including two children.
"I just work and I know how to save," she said. "Inflation doesn't make a big difference to me in paying bills, but it does make a difference in the things I would do for leisure, like going to restaurants. There's not a lot of wiggle room for that.