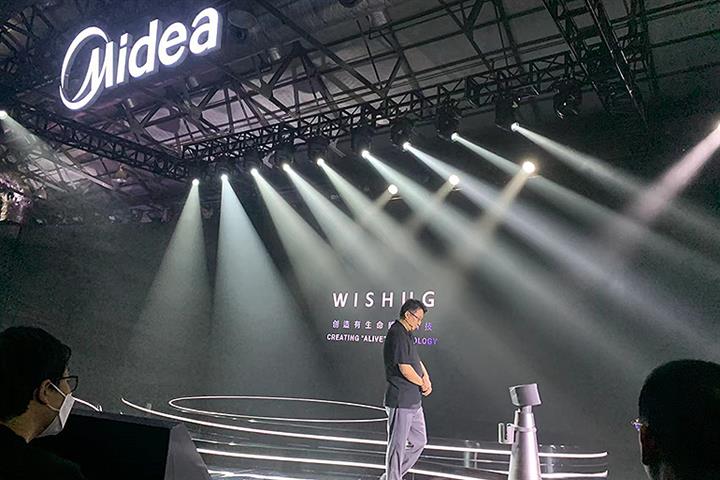 Midea unveils the first home service robot to go on sale in the second half of 2022
(Yicai Global) June 10 — Chinese home appliance giant Midea Group has unveiled its first home service robot, which is expected to launch in the second half of the year.
Xiaowei, a one-meter-tall home robot, has multiple functions including kitchen helper, study buddy, remote housekeeping, security patrol, emergency help, fall detection and online game, has the Foshan, Guangdong province-based company said yesterday. It is expected to start mass production in the second half of the year, Midea added.
As the smart housekeeper of smart homes, Xiaowei will connect to Midea's home appliances, Tang Jian, general manager of Midea's AI innovation center, told Yicai Global. The company also plans to connect the robot to Huawei's Hongmeng system, he added.
A home service robot would have to break down barriers between different brands of home appliances, Tang said, noting that this is particularly difficult because companies may not be willing to open up interfaces.
The core of home service robots is AI technology, and the key to AI technology lies in data, computing power and algorithms, and Midea has accumulated data and experience on the needs of home users, he added.
Samsung Electronics and LG Electronics also showcased home service robots at the International Consumer Electronics Show last year.
Midea also launched new swipe bots and shopping guide bots yesterday. Household appliances will be robotized in the future, and the company will offer products such as shopping guide robots, shopping robots, cleaning robots, service robots, kitchen robots and garden robots.
Publisher: Futura Costaglione