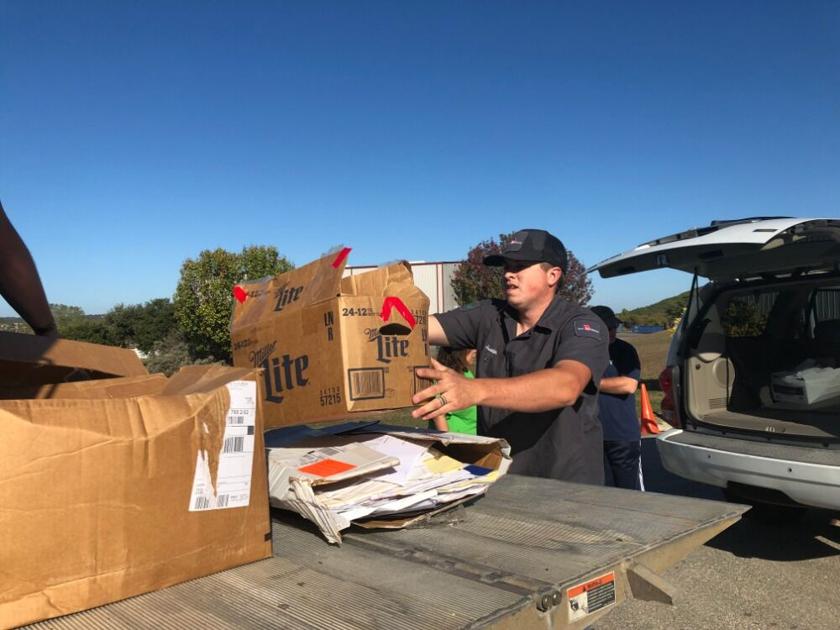 Several individuals throw away paper and electronic waste | Herald of Copperas Cove
Area residents dumped more than 3,500 pounds of paper and more than 900 pounds of electronic waste on Monday at Copperas Cove.
Monday was National Recycling Day, known locally as Texas Recycles Day. For this reason, the Copperas Cove Solid Waste Department worked with Keep Copperas Cove Beautiful (KCCB) to host an event for Texas Recycles Day.
The event provided an opportunity for the local community to go out and throw away items that can be recycled or shredded, items such as unwanted paper for shredding. People also threw away laptops, cell phones, hard drives, USB drives, compact discs, cardboard and unwanted plastics.
(KCCB) Executive Director Roxanne Flores-Achmad and (KCCB) President Bonita Henderson were there to help the community drop off the articles. Alongside them are Justin Klaus and Payton Snok-house of the Heart of Texas Shredding Company, based in Elm Mot.
In total, the local community threw out 3,672 pounds of paper and 948 pounds of electronic waste.
Jesse Beck came out of the Texas Recycles event to get rid of some of his old computers.
Glenn Wells is another person who gets rid of some electronic waste.
"I came to the event today because I saw this free event posted on social media, so I wanted to get rid of some old computers and a printer that I have had for over 20 years. "Wells said. "This is the first time that I got rid of things I no longer needed, and it was free."
A local resident named Joe added, "I wanted to get rid of my son's computer he had when he graduated from the University of Texas in 1999, I also wanted to get rid of an old GPS.